Bituthene 4000
Self-adhesive HDPE hydro-insulation membrane for use on horizontal substrates with moisture tolerant Primer B2
Advantages
Good bonding characteristics – rubber bituthene substance may be applied with Primer B2 on damp substrate.
Cold applied – easily applied on substrate even in low temperatures.
Wide application temperature range – excellent bond to substrate and cover in temperatures from –4 °C to +35 °C.
Overlap security – reduces risk of in-situ errors.
Cross laminated high density polyethylene carrier film – provides high tear strength, puncture and impact resistance.
Flexible – accommodates minor structural movements and smoothens volume shrinkage cracks.
Description
Bituthene® 4000 is flexible waterproof laminated membrane, which combines very effective cross laminated HDPE membrane with a unique superb self-adhesive  rubber bitumen compound.
Application
Bituthene® is suitable for hydro-insulation of the horizontal concrete surfaces when temperatures of use do not exceed 54 °C. Applied to multilayer concrete constructions, e.g. terrasses and parking buildings.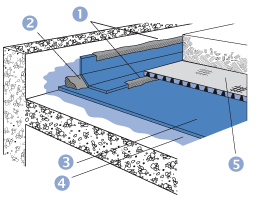 In the drawing:
Bituthene LM liquid membrane or Bituthene Mastic
Bituthene LM liquid membrane
Bituthene 4000
Primer B2
Hydroduct 660
In indoor conditions Bituthene can be used in floors of technical rooms, laboratories, kitchens and washing rooms. (See about hydroinsulation of sub-structures  in "Sub-structur's hydroinsulation Bituthene® 4000.") Bituthene is brushed onto the surfaces, that should be pre-primed with Primer B2, with sticky side down. Continuity of membrane is ensured when it is minimum 50 mm overlapped and the joint is firmly rolled over. Bituthene is very elastic, it can smoothen shrinkage cracks and resists minor structural deformations within the whole life of a building.
Find more about product on the Estonian data sheet Bituthene_4000.pdf
and from our sales representatives.