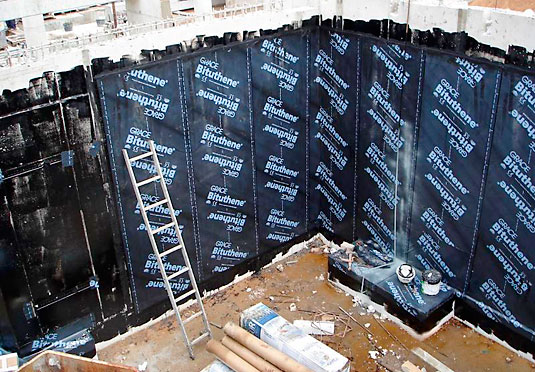 Bituthene 4000
Self-adhesive waterproof HDPE/ rubber bitumen laminate membrane, applied onto wet surfaces with Primer B2

Advantages
cold application – easily applied onto substrates even in low temperatures
suitable for application onto "freshly poured" concrete – reduces working time
moisture tolerant primer – allows application in damp or open spaces with weather affected conditions.
wide application temperature range – excellent bond to substrate and finishers at temperatures from -100 °C to +350 °C
overlap security – decreases risk of errors made in-situ
cross laminated high density polyethylene – ensures high tear, puncture and impact resistance.
flexible – accommodates minor structural movements and smoothens cracks.
Description
Bituthene® 4000 is a flexible waterproof laminated membrane, that combines highly effective cross laminate HDPE membrane with a unique super sticky self-adhesive rubber bitumen compound.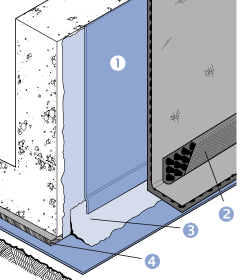 Ancillary products Primer B2
Primer B2 is used to prepare vertical and sloping substrates. Primer is moisture tolerant and can be applied on "green" concrete or damp to touch substrates.
In the drawing:
Applied Bituthene® 4000 Primer B2
Hydroduct® and protection board
Bituthene® Liquid Membrane
Bituthene® 4000 ja Servipak® 3 protection
Bituthene® Liquid Membrane
Waterproof continuity at angles is provided by two component Bituthene® Liquid Membrane.
Servipak® protection
Damage from application of the following material layers can be prevented by covering a membrane with pressure presistant and decay resistant Servipak® boards, fixed by Pak Adhesive. Vertical surfaces can be protected from backfilling by Servipak®, Hydroduct® or other recommended by Grace boards located with double-side tape.
Find more about product on the Estonian data sheet  Bituthene_4000V.pdf
and from our sales representatives.