ISO-DRAIN® 8 ACCESSORIES
Accessories for ISO-DRAIN 8 dimpled sheet installation
INTERPLAST edge profile
---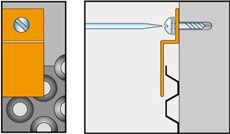 Special edge profile provides neat finishing and proper securing of dimpled sheet edges.

Edge profile prevents penetration of soil into the air gap between the dimpled sheet and the foundation wall.
Material: HDPE 


Colour: black
Lengths: 2,0 m / 2,5 m
Package: 20 pcs
INTERPLAST finishing strips
---
Finishing strips provide for close-fit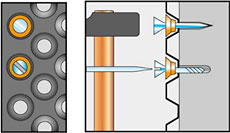 and fast installation on different substrates.
3.5 mm I.D anchor heads with nails:


Anchor heads material: HDPE
Nail material: steel
Package: 250 pcs
5 mm I.D. anchor heads with plugs:


Anchor heads material: HDPE
Plugs material: HDPE
Package: 250 pcs
Find more about product on the Estonian data sheet ISO_DRAIN8_ACCESSORIES.pdf and from our sales representatives.